Project Details
Client: Allan & Melva Forrest
Location: Whangarei, New Zealand
Services: Hosting, Redesign
Launched: February, 2009
---
Testimonial
Allan & I would like to thank you very much for upgrading our website, avenueheights.co.nz.
We really appreciated being able to just give you an idea which you have expanded and enhanced and ended up with a great result.
We would recommend you to anyone, especially those who have little understanding of computers, such as ourselves.
Your service has been very professional, prompt and most cost effective.
Kind regards
Melva & Allan Forrest
Avenue Heights Motel
---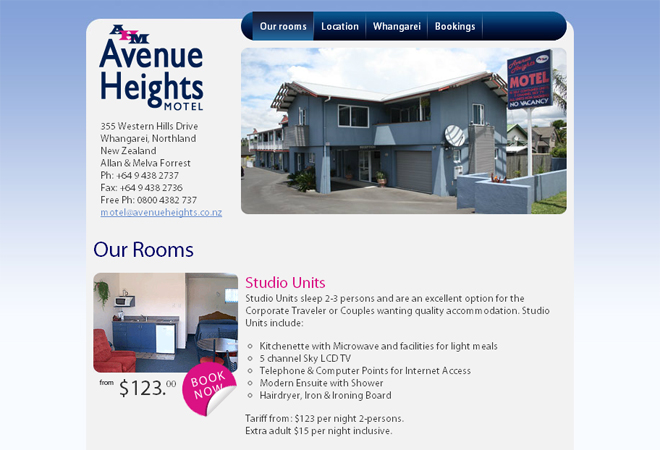 While touring Northland in January 2009, we stayed at Avenue Heights Motel in Whangarei and got chatting to the owners, Melva and Allan. Eventually the topic of conversation came to what do you do for a living and the rest is history. Allan and Melva wanted a modern, clean looking website that portrayed their motel in better light than their old site.
I went about designing a simple 'rounded corners' design that put the focus on the content and supporting imagery. The image galleries on every page are customisable and can easily have new images added, captions added or edited, and images deleted from them.