Project Details
Client: Louise Keenan
Location: Rotorua, New Zealand
Services: Design, Hosting, Single page
Launched: October, 2009
---
Testimonial
Thank you so much for the website that you have done for me. You made the daunting process very easy.
I found your service professional, affordable and your communication very clear.
The design you came up with so quickly was perfect, if I new it would be this easy to do a web page I would have done it earlier.
We will be highly recommending your professional service.
Louise Keenan
Silverfern Spa Studio
---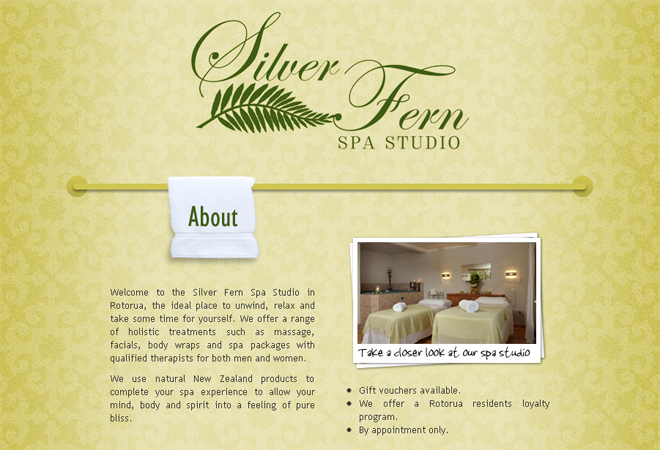 Louise from the Silverfern Spa Studio contacted us wanting a basic single page with just a little bit about her, her menu prices and contact details just to help market her business to locals and travelers who weren't staying at the motel where her business is based.
We hand crafted this design with the luxurious looking wallpaper background, and adding the towels hanging on rails to break the page into logical sections.
Louise was extremely pleased with the concept and signed off on the design immediately. Within 48 hours her new website was live.
If you need a web presence, even just a single page like this one, contact us today and we too can create a stylish, modern, functional website to help you promote yourself or your business.