---
---
---
---
Well 2009 is quickly coming to a close and we still have a couple of projects on the go. It's been a very busy year for Hodgeman Web & Design with business turnover up over 30% from last year. We've got a couple of on-going projects that are still waiting on clients for content, so I haven't mentioned them here. We've already got a few new clients line up for the new year, so things are looking good for 2010.
Jill Marshall is a talented writer and has a keen eye for attention to detail. This makes for a great copywriter and freelance journalist. She started her own company recently after been made redundant from her job of five plus years. She's already got more work than she can deal with, but wanted to get a clean, professional website setup before Christmas to complete her business image.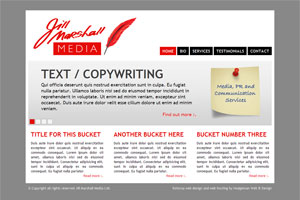 jillmarsallmedia.co.nz
Linda Page from Page Design Limited contacted us wanting assistance in setting up a WordPress powered website for this new client of theirs. She has designed this concept that the client has signed off on, and we are converting it into a WordPress theme and assisting Linda in getting WordPress installed and the site setup.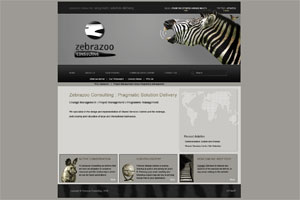 zebrazoo.com