Project Details
Client: Darryn Whitehead
Location: Rotorua, New Zealand
Services:CMS, Design, Hosting, WordPress
Launched: December, 2008
---
Testimonial
"Excellent service!!.....we were absoluted delighted with Adrian's work and resulting website. Right from the start, Adrian was completely in-sync with what we were looking for and we felt immediately comfortable that we would not need to go through endless revisions to get what was in our minds-eye.
Adrian worked diligently and quickly given our tight timeframes and also kindly supplied photos that he took for us which we were also delighted with....a real artistic eye and passion.
We are extremely happy to recommend Adrian to anyone looking for a quality website and painless process.
Darryn Whitehead
Regent Motel Rotorua
---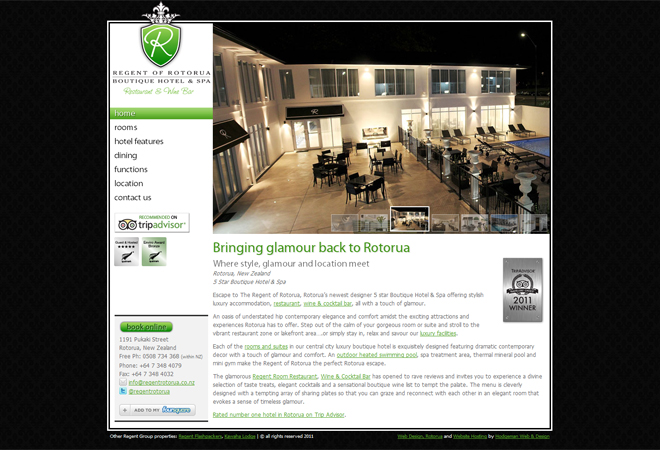 The Regent of Rotorua went through a major transformation at the end of 2008 turning it into a stylish modern boutique hotel with a touch of glamour. The new owners turned the 1950s Rotorua inner-city motel complex into a fantastic oasis of understated contemporary elegance and comfort.
Located in the Rotorua CBD, ampoule the Regent of Rotorua is surely going to be a popular location for the discerning business traveler or guest looking for a touch of class within modern surroundings.
We built the site on the fantastic WordPress blogging/CMS platform and custom designed the black and white art-deco theme to tie into the look and feel of the boutique hotel.
This gives the client complete power and control over the content and imagery on the site, prostate and the ability to login securely anywhere in the world and update their website.
If you like the sound of a website that you can easily manage yourself, contact us today to get your ball rolling.