Project Details
www.hodgeman.co.nz/web/susancowsill
Client: Susan Cowsill Band
Location: New Orleans, LA, USA
Services: Flash CD-Rom
Launched: March, 2008
---
Testimonial
Adrian Hodge can work miracles across time zones! We had an electronic business card project to complete for South By Southwest in Austin, Texas and Adrian was able to work with us, complete storyboard, and write FLASH code in less than 48 hours in time for turn-around! Amazing.
We highly recommend Adrian and will be working with him on future projects. Take a look at what he did for us!!!
Susan Cowsill Band
New Orleans, LA USA
---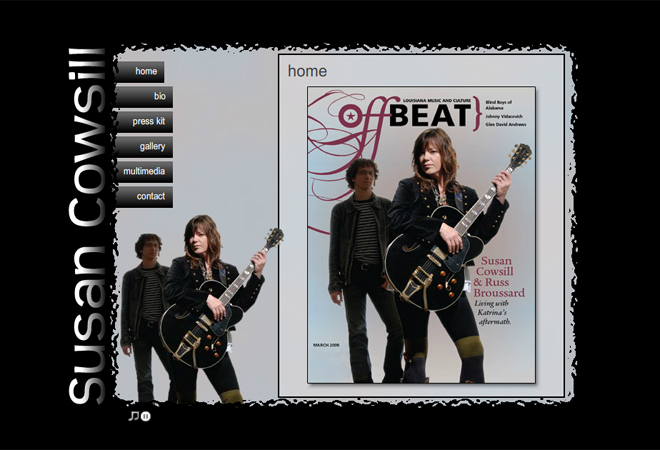 Susan Cowsill's publicist from New Orleans, USA contacted me with a digital business card they wanted completed within a few days for a SXSW conference. After completing an initial HTML mockup, we quickly worked on the final Flash file which would be used on a CD-Rom business card for handing out at the conference. A truly great cause raising awareness and money to help New Orleans recover from Hurrican Katrina.