---
---
---
---
After many months of committee meetings and development stage sign-off's, we are pleased to present the completed Rotorua Education Network website.
Originally part of rotoruaNZ.com, the official tourism website for Rotorua, is now finally standing alone by itself.
Development began late 2009 and it's great to finally have it launched and live on the interweb.
A simple and clean 'education' themed site powered by WordPress, giving the power and simplicity back to the people who own and mange the website, and not us, the web development agency.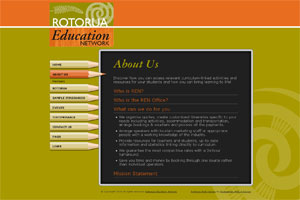 Read the full case study here.